App Setup
To install the Revolut Pay app in your store, simply visit the app page and click on the Get button. Once installed, you will be redirected to the app settings page where can enter your credentials in the appropriate boxes, as shown below.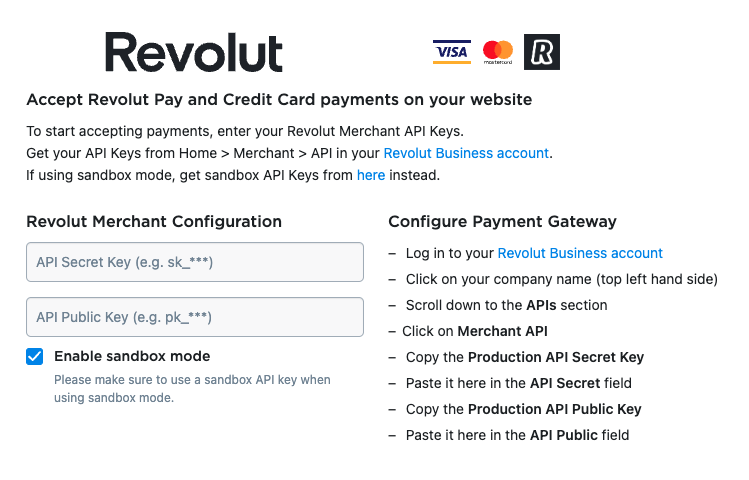 Important:
Don't forget to update your API keys and switch off sandbox mode before making the payment method available to your customers.
How to test Revolut Pay
Click on the R Pay button and follow the instructions.
You will not be charged.
How to test card payments
Click on the Pay with card button and use the following details:
Card number: 4929 4205 7359 5709
Expiry date: 04/27
CVV: 242
To test card payment errors, you can use several card numbers provided here.
Automatic Translations
All payment widgets will be automatically translated to the language configured in your Ecwid store. For example, if your Ecwid store is in French, all payment attributes will be in French. The following languages are supported at this time:
en (English)
es (Spanish),
de (German),
fr (French),
it (Italian),
nl (Dutch),
pl (Polish),
pt (Portuguese),
cs (Czech),
hu (Hungarian),
sk (Slovak),
ja (Japanese),
sv (Swedish),
bg (Bulgarian),
el (Greek),
ro (Romanian),
lt (Lithuanian),
hr (Croatian)
How to get help
For any support related to this Ecwid app, please open a support ticket.